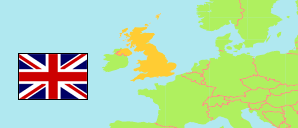 Sweyne Park and Grange
Ward in East of England
Contents:

Population

The population development of Sweyne Park and Grange as well as related information and services (Wikipedia, Google, images).
Source: UK Office for National Statistics (web).
Explanation: Wards as at December 2019. All area and population figures of wards are based on output areas. Thus, slight discrepancies are possible compared to the actual ward boundaries that are depicted in the map.
---
Further information about the population structure:
Gender (E 2019)
Males
3,231
Females
3,466
Age Groups (E 2019)
0-17 years
1,434
18-64 years
4,051
65+ years
1,212
Age Distribution (E 2019)
0-9 years
763
10-19 years
800
20-29 years
741
30-39 years
902
40-49 years
985
50-59 years
935
60-69 years
672
70-79 years
581
80+ years
318
Passport (C 2011)
UK
5,574
Republic of Ireland
31
EU (other)
35
other passport
75
no passport
853
Country of Birth (C 2011)
UK
6,279
Republic of Ireland
42
EU (other)
50
Other country
166
Ethnic Group (C 2011)
White
6,330
Asian
101
Black
23
Mixed/multiple
68
Other ethnic group
15
Religion (C 2011)
Christian
3,993
Muslim
27
Hindu
34
Jewish
20
Buddhist
18
Other religion
16
No religion
1,991
---