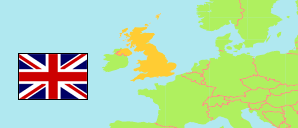 Kesgrave
Parish in East of England
Contents:

Population

The population development of Kesgrave as well as related information and services (Wikipedia, Google, images).
Source: UK Office for National Statistics (web).
Explanation: Parishes as at December 2020. All population and corresponding area figures of parishes are based on assigning output areas by using population-weighted centroids. Thus, slight discrepancies are possible compared to the actual parish boundaries that are depicted in the map. No population figures (and the actual area) are provided for parishes smaller than output areas.
---
Further information about the population structure:
Gender (E 2020)
Males
7,357
Females
7,587
Age Groups (E 2020)
0-17 years
3,714
18-64 years
8,522
65+ years
2,708
Age Distribution (E 2020)
0-9 years
1,834
10-19 years
2,216
20-29 years
1,366
30-39 years
1,694
40-49 years
2,297
50-59 years
2,077
60-69 years
1,395
70-79 years
1,248
80+ years
828
Passport (C 2011)
UK
11,588
Republic of Ireland
55
EU (other)
184
other passport
358
no passport
2,100
Country of Birth (C 2011)
UK
13,179
Republic of Ireland
40
EU (other)
260
Other country
689
Ethnic Group (C 2011)
White
13,258
Asian
506
Black
109
Arab
20
Mixed/multiple
256
Other ethnic group
19
Religion (C 2011)
Christian
8,608
Muslim
100
Hindu
172
Sikh
34
Jewish
17
Buddhist
27
Other religion
43
No religion
4,182
---