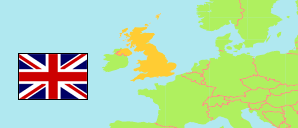 Southend-on-Sea
Unitary District in East of England
Contents:

Subdivision

The population development in Southend-on-Sea as well as related information and services (Wikipedia, Google, images).
Name
Status
Population
Census
2001-04-29
Population
Census
2011-03-27
Population
Estimate
2019-06-30

Southend-on-Sea

Unitary District
160,257
173,658
183,125

Leigh-on-Sea

Parish
20,737
22,509
23,334
→

Southend-on-Sea

Unparished Area
139,519
151,149
159,791
→
East of England
Region
5,388,140
5,846,965
6,236,072
Source: UK Office for National Statistics (web).
Explanation: Parishes as at December 2019. All population and corresponding area figures of parishes are based on assigning output areas by using population-weighted centroids. Thus, slight discrepancies are possible compared to the actual parish boundaries that are depicted in the map. No population figures (and the actual area) are provided for parishes smaller than output areas.
---
Further information about the population structure:
Gender (E 2019)
Males
89,829
Females
93,296
Age Groups (E 2019)
0-17 years
39,738
18-64 years
107,762
65+ years
35,625
Age Distribution (E 2019)
0-9 years
22,807
10-19 years
20,474
20-29 years
19,554
30-39 years
24,154
40-49 years
25,288
50-59 years
25,357
60-69 years
19,066
70-79 years
16,064
80+ years
10,361
Passport (C 2011)
UK
134,915
Republic of Ireland
1,143
EU (other)
4,739
other passport
5,041
no passport
29,204
Country of Birth (C 2011)
UK
156,536
Republic of Ireland
1,301
EU (other)
5,422
Other country
10,399
Ethnic Group (C 2011)
White
159,023
Asian
6,440
Black
3,647
Arab
297
Mixed/multiple
3,651
Other ethnic group
600
Religion (C 2011)
Christian
96,755
Muslim
3,309
Hindu
1,161
Sikh
149
Jewish
2,150
Buddhist
801
Other religion
908
No religion
54,880
---