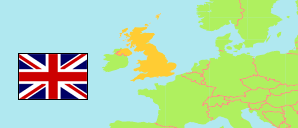 Ratby, Bagworth and Thornton
Ward in East Midlands
Contents:

Population

The population development of Ratby, Bagworth and Thornton as well as related information and services (Wikipedia, Google, images).
Name
Status
Population
Census
2001-04-29
Population
Census
2011-03-27
Population
Estimate
2017-06-30

Ratby, Bagworth and Thornton

Ward
5,697
7,073
7,511
East Midlands
Region
4,172,174
4,533,222
4,771,666
Source: UK Office for National Statistics (web).
Explanation: Districts and wards as at December 2017. All area and population figures of wards are based on output areas. Thus, slight discrepancies are possible compared to the actual ward boundaries that are depicted in the map.
---
Further information about the population structure:
Gender (E 2017)
Males
3,736
Females
3,775
Age Groups (E 2017)
0-17 years
1,705
18-64 years
4,445
65+ years
1,361
Age Distribution (E 2017)
0-9 years
973
10-19 years
886
20-29 years
768
30-39 years
932
40-49 years
1,053
50-59 years
1,113
60-69 years
889
70-79 years
612
80+ years
285
Passport (C 2011)
UK
5,829
Republic of Ireland
22
EU (other)
15
other passport
47
no passport
1,182
Country of Birth (C 2011)
UK
6,902
Republic of Ireland
13
EU (other)
42
Other country
116
Ethnic Group (C 2011)
White
6,864
Asian
113
Black
27
Arab
4
Mixed/multiple
57
Other ethnic group
8
Religion (C 2011)
Christian
4,279
Muslim
24
Hindu
41
Sikh
23
Jewish
5
Buddhist
10
Other religion
22
No religion
2,261
---