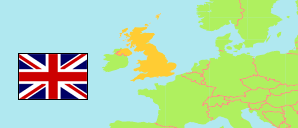 Dethick, Lea and Holloway
Parish in East Midlands
Contents:

Population

The population development of Dethick, Lea and Holloway as well as related information and services (Wikipedia, Google, images).
Name
Status
Population
Census
2001-04-29
Population
Census
2011-03-27
Population
Estimate
2018-06-30

Dethick, Lea and Holloway

Parish
1,106
1,027
1,056
East Midlands
Region
4,172,174
4,533,222
4,804,149
Source: UK Office for National Statistics (web).
Explanation: Parishes as at December 2018. All population and corresponding area figures of parishes are based on assigning output areas by using population-weighted centroids. Thus, slight discrepancies are possible compared to the actual parish boundaries that are depicted in the map. No population figures are provided for parishes smaller than output areas.
---
Further information about the population structure:
Gender (E 2018)
Males
519
Females
537
Age Groups (E 2018)
0-17 years
167
18-64 years
558
65+ years
331
Age Distribution (E 2018)
0-9 years
77
10-19 years
109
20-29 years
49
30-39 years
77
40-49 years
133
50-59 years
182
60-69 years
218
70-79 years
141
80+ years
70
Passport (C 2011)
UK
823
Republic of Ireland
2
EU (other)
9
other passport
14
no passport
184
Country of Birth (C 2011)
UK
987
Republic of Ireland
2
EU (other)
9
Other country
29
Ethnic Group (C 2011)
White
1,014
Asian
3
Black
1
Mixed/multiple
9
Religion (C 2011)
Christian
674
Hindu
1
Sikh
1
Jewish
5
Buddhist
5
Other religion
2
No religion
252
---