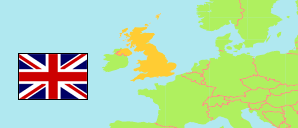 Nottingham
Unitary District in East Midlands
Contents:

Subdivision

The population development in Nottingham as well as related information and services (Wikipedia, Google, images).
Name
Status
Population
Census
2001-04-29
Population
Census
2011-03-27
Population
Estimate
2018-06-30

Nottingham

Unitary District
266,988
305,680
331,069

Nottingham

Unitary District
266,990
305,680
331,069
→
East Midlands
Region
4,172,174
4,533,222
4,804,149
Source: UK Office for National Statistics (web).
Explanation: Parishes as at December 2018. All population and corresponding area figures of parishes are based on assigning output areas by using population-weighted centroids. Thus, slight discrepancies are possible compared to the actual parish boundaries that are depicted in the map. No population figures are provided for parishes smaller than output areas.
---
Further information about the population structure:
Gender (E 2018)
Males
168,142
Females
162,927
Age Groups (E 2018)
0-17 years
68,651
18-64 years
224,218
65+ years
38,200
Age Distribution (E 2018)
0-9 years
41,012
10-19 years
44,162
20-29 years
81,853
30-39 years
43,143
40-49 years
35,427
50-59 years
33,982
60-69 years
24,524
70-79 years
16,153
80+ years
10,813
Passport (C 2011)
UK
206,930
Republic of Ireland
1,836
EU (other)
14,249
other passport
23,378
no passport
62,219
Country of Birth (C 2011)
UK
245,951
Republic of Ireland
1,901
EU (other)
14,789
Other country
43,039
Ethnic Group (C 2011)
White
218,698
Asian
40,039
Black
22,185
Arab
2,372
Mixed/multiple
20,265
Other ethnic group
2,121
Religion (C 2011)
Christian
135,216
Muslim
26,919
Hindu
4,498
Sikh
4,312
Jewish
1,069
Buddhist
2,051
Other religion
1,483
No religion
106,954
---