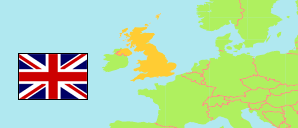 Leicester
Unitary District in East Midlands
Contents:

Subdivision

The population development in Leicester as well as related information and services (Wikipedia, Google, images).
Name
Status
Population
Census
2001-04-29
Population
Census
2011-03-27
Population
Estimate
2019-06-30

Leicester

Unitary District
279,921
329,839
354,036

Leicester

Unitary District
279,912
329,839
354,224
→
East Midlands
Region
4,172,174
4,533,222
4,835,928
Source: UK Office for National Statistics (web).
Explanation: Parishes as at December 2019. All population and corresponding area figures of parishes are based on assigning output areas by using population-weighted centroids. Thus, slight discrepancies are possible compared to the actual parish boundaries that are depicted in the map. No population figures (and the actual area) are provided for parishes smaller than output areas.
---
Further information about the population structure:
Gender (E 2019)
Males
177,763
Females
176,461
Age Groups (E 2019)
0-17 years
84,082
18-64 years
227,021
65+ years
43,121
Age Distribution (E 2019)
0-9 years
49,150
10-19 years
47,027
20-29 years
72,168
30-39 years
49,465
40-49 years
39,886
50-59 years
37,524
60-69 years
29,370
70-79 years
17,892
80+ years
11,742
Passport (C 2011)
UK
226,581
Republic of Ireland
1,527
EU (other)
20,822
other passport
30,377
no passport
53,084
Country of Birth (C 2011)
UK
218,996
Republic of Ireland
1,933
EU (other)
15,927
Other country
92,983
Ethnic Group (C 2011)
White
166,636
Asian
122,470
Black
20,585
Arab
3,311
Mixed/multiple
11,580
Other ethnic group
5,257
Religion (C 2011)
Christian
106,872
Muslim
61,440
Hindu
50,087
Sikh
14,457
Jewish
295
Buddhist
1,224
Other religion
1,839
No religion
75,280
---