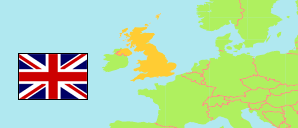 Derby
Unitary District in East Midlands
Contents:

Subdivision

The population development in Derby as well as related information and services (Wikipedia, Google, images).
Name
Status
Population
Census
2001-04-29
Population
Census
2011-03-27
Population
Estimate
2018-06-30

Derby

Unitary District
221,708
248,752
257,174

Derby

Unitary District
221,712
248,752
257,174
→
East Midlands
Region
4,172,174
4,533,222
4,804,149
Source: UK Office for National Statistics (web).
Explanation: Parishes as at December 2018. All population and corresponding area figures of parishes are based on assigning output areas by using population-weighted centroids. Thus, slight discrepancies are possible compared to the actual parish boundaries that are depicted in the map. No population figures are provided for parishes smaller than output areas.
---
Further information about the population structure:
Gender (E 2018)
Males
127,252
Females
129,922
Age Groups (E 2018)
0-17 years
59,899
18-64 years
155,399
65+ years
41,876
Age Distribution (E 2018)
0-9 years
34,563
10-19 years
32,139
20-29 years
37,684
30-39 years
34,553
40-49 years
31,830
50-59 years
32,220
60-69 years
23,391
70-79 years
18,323
80+ years
12,471
Passport (C 2011)
UK
179,506
Republic of Ireland
1,545
EU (other)
8,580
other passport
9,477
no passport
51,175
Country of Birth (C 2011)
UK
214,131
Republic of Ireland
1,786
EU (other)
9,393
Other country
23,442
Ethnic Group (C 2011)
White
199,751
Asian
31,095
Black
7,320
Arab
861
Mixed/multiple
7,232
Other ethnic group
2,493
Religion (C 2011)
Christian
131,129
Muslim
19,006
Hindu
2,198
Sikh
8,891
Jewish
110
Buddhist
822
Other religion
985
No religion
68,668
---