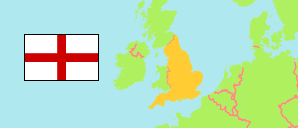 Windsor and Maidenhead
Unitary District in South East England (UK)
Contents:

COVID-19 Cases in England

COVID-19 Cases in England in Windsor and Maidenhead as well as related information and services (Wikipedia, Google, images).
Measure for growth: Number of new cases per day and 100,000 inhabitants.
Source: UK Government.
Last Change: 2020-07-15 15:51 UTC
Explanation: About 4% of the cases cannot be matched to a geographical area. This is why the area counts do not add up to the England total. In the last column, the number of cases is underestimated because of delayed notifications.
---
Further information about the Cases:
New Cases per Day
03-04 ~ 03-18
1.36
03-18 ~ 04-01
6.00
04-01 ~ 04-15
6.50
04-15 ~ 04-29
6.57
04-29 ~ 05-13
3.29
05-13 ~ 05-27
2.36
05-27 ~ 06-10
1.93
06-10 ~ 06-24
0.36
06-24 ~ 07-14
0.45
---
---
England: COVID-19 cases, incidence rates and growth by counties, districts and boroughs