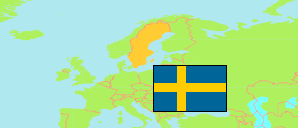 Sweden:
Stockholm Metropolitan Area
Contents: Stockholm
Metropolitan Area
---
2,391,990 Population [2020] – estimate
2,415,139 Population [2021] – estimate
6,524km² Area
370.2/km² Density [2021]
Demographic Statistical Areas
The population of the demographic statistical areas (DeSO) in Metropolitan Stockholm according to official estimates.
1,287 Demographic Statistical Areas (number)
1,877 Population [2021] (average)
5.069 km² Area (average)
In the map, click on an area for displaying detailed information of the corresponding feature.
---
Further information about the population structure:
---
Source: Statistiska Centralbyrån, Sverige (web).