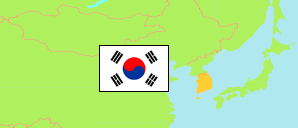 Bupyeong 1-dong
Quarter in Incheon Metropolitan City
Contents:

Population

The population development of Bupyeong 1-dong as well as related information and services (Wikipedia, Google, images).
Name
Status
Native
Population
Census
2005-11-01
Population
Census
2010-11-01
Population
Census
2015-11-01
Population
Census
2020-11-01

Bupyeong 1-dong

Quarter

부평1동

34,519
34,891
34,259
38,522
Incheon
Metropolitan City

인천광역시

2,531,280
2,662,509
2,890,451
2,945,454
Source: National Statistical Office of the Republic of Korea (web).
Explanation: Since 2015, a register-based census is performed. Nevertheless, the results are not consistent with the population figures from the resident registration that are higher by about 3.5% on average. Area figures are derived from geospatial data.
---
Further information about the population structure:
Gender (C 2020)
Males
18,540
Females
19,982
Age Groups (C 2020)
0-14 years
3,887
15-64 years
29,445
65+ years
5,190
Age Distribution (C 2020)
0-9 years
2,620
10-19 years
2,811
20-29 years
6,068
30-39 years
6,670
40-49 years
5,809
50-59 years
6,404
60-69 years
4,836
70-79 years
2,183
80-89 years
991
90+ years
126
Nationality (C 2020)
Korea
36,028
Other nationality
2,494
---