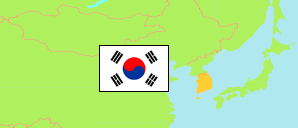 Wolpyeong 3-dong
Quarter in Daejeon Metropolitan City
Contents:

Population

The population development of Wolpyeong 3-dong as well as related information and services (Wikipedia, Google, images).
Name
Status
Native
Population
Census
2005-11-01
Population
Census
2010-11-01
Population
Census
2015-11-01
Population
Census
2020-11-01

Wolpyeong 3-dong

Quarter

월평3동

27,260
25,447
23,211
21,279
Daejeon
Metropolitan City

대전광역시

1,442,856
1,501,859
1,538,394
1,488,435
Source: National Statistical Office of the Republic of Korea (web).
Explanation: Since 2015, a register-based census is performed. Nevertheless, the results are not consistent with the population figures from the resident registration that are higher by about 3.5% on average. Area figures are derived from geospatial data.
---
Further information about the population structure:
Gender (C 2020)
Males
10,513
Females
10,766
Age Groups (C 2020)
0-14 years
3,127
15-64 years
15,846
65+ years
2,306
Age Distribution (C 2020)
0-9 years
1,836
10-19 years
2,625
20-29 years
2,627
30-39 years
2,578
40-49 years
3,465
50-59 years
4,024
60-69 years
2,801
70-79 years
896
80-89 years
378
90+ years
49
Nationality (C 2020)
Korea
21,217
Other nationality
62
---