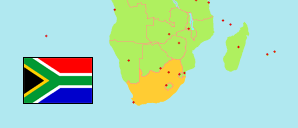 Greater Taung
Local Municipality in South Africa
Contents:

Population

The population development of Greater Taung as well as related information and services (Wikipedia, Google, images).
Name
Status
Population
Census
1996-10-09
Population
Census
2001-10-09
Population
Census
2011-10-09
Population
Estimate
2016-03-06

Greater Taung

Local Municipality
184,364
182,164
177,642
167,827
South Africa
Republic
40,583,573
44,819,778
51,770,560
55,653,654
Source: Statistics South Africa (web).
Explanation: The 2016 population figures refer to the Community Survey 2016. Area figures for municipalities are calculated from geospatial data.
---
Further information about the population structure:
Gender (C 2011)
Males
83,756
Females
93,886
Population Group (C 2011)
Black African
174,506
White
700
Asian
407
Coloured
1,770
Other group
259
First Language (C 2011)
Zulu
1,653
Xhosa
2,961
Afrikaans
2,335
English
2,669
Northern Sotho
397
Tswana
159,697
Sotho
2,694
Tsonga
146
Venda
73
Southern Ndebele
2,067
Sign Language
921
Other language
1,117
---