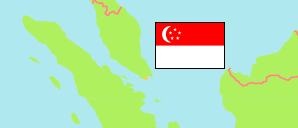 Yew Tee
Subzone in Singapore
Contents:

Population

The population development of Yew Tee as well as related information and services (Wikipedia, Google, images).
Name
Status
Population
Census
2000-06-30
Population
Census
2010-06-30
Population
Estimate
2015-06-30
Population
Census
2020-06-30

Yew Tee

Subzone
23,934
45,257
43,710
40,390
Singapore
Republic
3,273,360
3,771,720
3,902,690
4,044,210
Source: Singapore Department of Statistics (web).
Explanation: Non-resident population (1,641,597 in Singapore on 30 June 2020) is not included in the tabulated figures. All censuses are register-based, i.e., basic population count and characteristics such as age, gender, ethnic group and place of residence were obtained from administrative records and do not differ from estimates. Planning areas and subzones as demarcated in the Urban Redevelopment Authority's Master Plan 2019. Area figures are calculated by using geospatial data.
---
Further information about the population structure:
Gender (C 2020)
Males
20,100
Females
20,280
Age Groups (C 2020)
0-14 years
5,650
15-64 years
30,860
65+ years
3,890
Age Distribution (C 2020)
0-9 years
3,250
10-19 years
5,210
20-29 years
6,430
30-39 years
5,050
40-49 years
6,700
50-59 years
7,030
60-69 years
4,600
70-79 years
1,520
80-89 years
510
90+ years
100
Ethnic Group (C 2020)
Chinese
29,390
Malay
6,080
Indian
3,540
Other group
1,380
---