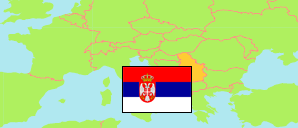 Lazarevac
City Municipality in Serbia
Contents:

Population

The population development of Lazarevac as well as related information and services (Wikipedia, Google, images).
Name
Status
Native
Population
Census
1991-03-31
Population
Census
2002-04-01
Population
Census
2011-09-30
Population
Estimate
2019-06-30

Lazarevac

City Municipality

Лазаревац

57,848
58,511
58,622
56,595
Srbija [

Serbia

]
Republik

Србија

7,576,837
7,498,001
7,186,862
6,945,235
Source: Statistical Office of the Republic of Serbia (web).
Explanation: The 2011 census was affected by the boycott of the Albanians in the municipalities Preševo and Bujanovac (both located in the District of Pčinja) and partly affected in Medveđa (District of Jablanica).
---
Further information about the population structure:
Gender (E 2019)
Males
27,726
Females
28,869
Age Groups (E 2019)
0-14 years
8,977
15-64 years
37,537
65+ years
10,081
Age Distribution (E 2019)
0-9 years
6,088
10-19 years
5,756
20-29 years
6,873
30-39 years
8,032
40-49 years
7,454
50-59 years
7,873
60-69 years
8,519
70-79 years
3,895
80+ years
2,105
Country of Birth (C 2011)
Serbia
54,443
Ex-Yugoslavia
3,637
Other country
542
Religion (C 2011)
Orthodox
56,001
Other Christian
603
Muslim
148
Other/No/Unknown
1,870
---