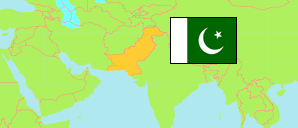 Mohmand
Tribal District (Agency) in Pakistan
Contents:

Population

The population development of Mohmand as well as related information and services (Wikipedia, Google, images).
Name
Status
Population
Census
1972-09-16
Population
Census
1981-03-01
Population
Census
1998-03-01
Population
Census
2017-03-15

Mohmand

Tribal District (Agency)
382,922
163,933
334,453
466,984
Pakistan
Republic
65,309,340
84,253,644
132,352,279
207,776,954
Source: Pakistan Bureau of Statistics (web), U.S. Bureau of Census: Demobase Pakistan (web).
Explanation: The Pakistani-administered parts of Kashmir are not tabulated. The results of the 2017 census are preliminary. Area figures for districts are computed using geospatial data.
---
Further information about the population structure:
Gender (C 2017)
Males
238,003
Females
228,981
Urbanization (C 2017)
Rural
466,984
---