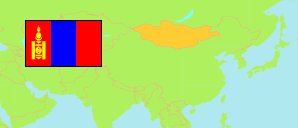 Jargalant
District in Mongolia
Contents:

Population

The population development of Jargalant as well as related information and services (Wikipedia, Google, images).
Name
Status
Native
Population
Estimate
1990-12-31
Population
Estimate
2000-12-31
Population
Estimate
2010-12-31
Population
Estimate
2020-12-31
Population
Estimate
2021-12-31

Jargalant

District

Жаргалант

...
3,221
2,908
3,452
3,511
Mongol uls [

Mongolia

]
State

Монгол улс

2,050,044
2,374,617
2,653,828
3,253,283
3,312,275
Source: Mongolian National Statistical Office (web).
Explanation: Population figures refer to the resident population which excludes citizens living abroad for more than six months and includes foreign and stateless people living for more than six months in Mongolia. Area and density figures of districts computed by using geospatial data.
---
Further information about the population structure:
Gender (E 2021)
Males
1,844
Females
1,667
Age Groups (E 2021)
0-14 years
957
15-64 years
2,331
65+ years
223
Age Distribution (E 2021)
0-9 years
650
10-19 years
547
20-29 years
539
30-39 years
447
40-49 years
464
50-59 years
487
60-69 years
252
70+ years
125
Urbanization (E 2021)
Rural
3,511
---