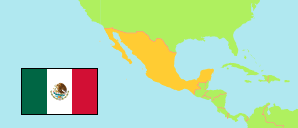 Santa María Cortijo
Municipality in Oaxaca
Municipality
The population development of Santa María Cortijo.
Name
Status
Population
Census
2000-02-14
Population
Census
2005-10-17
Population
Census
2010-05-31
Population
Census
2020-03-15
Santa María Cortijo
Municipality
1,016
983
1,083
1,067
→

Oaxaca

State
3,438,765
3,506,821
3,801,962
4,132,148
Contents:

Localities

The population development of the localities in Santa María Cortijo.
Source: Instituto Nacional de Estadística Geografía e Informática, México (web).
Explanation: The tabulated population figures take into account amalgamations of localities.