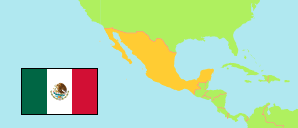 Toluca
Metropolitan Area in Mexico
Contents:

Population

The population development of Toluca as well as related information and services (Wikipedia, Google, images).
Name
Status
State(s)
Population
Census
1990-03-12
Population
Census
2000-02-14
Population
Census
2005-10-17
Population
Census
2010-05-31
Population
Estimate
2015-03-15
Population
Census
2020-03-15

Toluca

Metropolitan Area
México
1,156,444
1,605,571
1,779,435
2,014,091
2,202,886
2,353,924
Source: Instituto Nacional de Estadística Geografía e Informática, Mexico (web), Consejo Nacional de Población, México.
Explanation: Metropolitan areas according to the definition of 2015 (published in 2018). The 2015 population figures are result of an intercensal survey.
---
Further information about the population structure:
Gender (C 2020)
Males
1,144,179
Females
1,209,745
Age Groups (C 2020)
0-14 years
593,638
15-64 years
1,604,696
65+ years
153,472
Age Distribution (C 2020)
0-9 years
383,168
10-19 years
420,025
20-29 years
390,158
30-39 years
362,002
40-49 years
322,806
50-59 years
237,322
60-69 years
140,865
70-79 years
65,892
80+ years
29,568
Place of Birth (C 2020)
Same state
2,054,213
Mexico (other state)
281,479
USA
2,851
Other country
6,258
Religion (C 2020)
Roman Catholic
2,026,661
Protestant
156,922
Other religion
3,695
No religion
161,415
Literacy (A15+) (C 2020)
yes
1,703,285
no
54,883
---