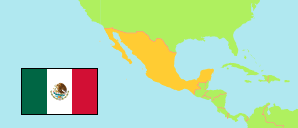 Valle de México
Metropolitan Area in Mexico
Contents:

Population

The population development of Valle de México as well as related information and services (Wikipedia, Google, images).
Name
Status
State(s)
Population
Census
1990-03-12
Population
Census
2000-02-14
Population
Census
2005-10-17
Population
Census
2010-05-31
Population
Estimate
2015-03-15
Population
Census
2020-03-15

Valle de México

[

Greater Mexico City

]
Metropolitan Area
Ciudad de México / Hidalgo / México
15,563,795
18,396,677
19,239,910
20,116,842
20,892,724
21,804,515
Source: Instituto Nacional de Estadística Geografía e Informática, Mexico (web), Consejo Nacional de Población, México.
Explanation: Metropolitan areas according to the definition of 2015 (published in 2018). The 2015 population figures are result of an intercensal survey.
---
Further information about the population structure:
Gender (C 2020)
Males
10,522,820
Females
11,281,695
Age Groups (C 2020)
0-14 years
4,564,823
15-64 years
15,241,707
65+ years
1,982,401
Age Distribution (C 2020)
0-9 years
2,909,868
10-19 years
3,373,168
20-29 years
3,516,206
30-39 years
3,344,669
40-49 years
3,132,880
50-59 years
2,544,309
60-69 years
1,711,289
70-79 years
858,997
80+ years
397,545
Place of Birth (C 2020)
Same state
15,000,273
Mexico (other state)
6,574,984
USA
39,588
Other country
111,128
Religion (C 2020)
Roman Catholic
16,506,476
Protestant
1,702,178
Other religion
112,682
No religion
3,407,787
Literacy (A15+) (C 2020)
yes
16,917,075
no
307,033
---