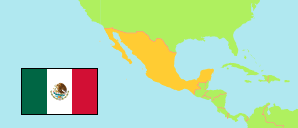 Tijuana
Metropolitan Area in Mexico
Contents:

Population

The population development of Tijuana as well as related information and services (Wikipedia, Google, images).
Name
Status
State(s)
Population
Census
1990-03-12
Population
Census
2000-02-14
Population
Census
2005-10-17
Population
Census
2010-05-31
Population
Estimate
2015-03-15
Population
Census
2020-03-15

Tijuana

Metropolitan Area
Baja California
798,938
1,352,035
1,575,026
1,751,430
1,840,710
2,157,853
Source: Instituto Nacional de Estadística Geografía e Informática, Mexico (web), Consejo Nacional de Población, México.
Explanation: Metropolitan areas according to the definition of 2015 (published in 2018). The 2015 population figures are result of an intercensal survey.
---
Further information about the population structure:
Gender (C 2020)
Males
1,090,256
Females
1,067,597
Age Groups (C 2020)
0-14 years
504,130
15-64 years
1,522,246
65+ years
124,512
Age Distribution (C 2020)
0-9 years
324,960
10-19 years
359,593
20-29 years
391,012
30-39 years
348,756
40-49 years
312,450
50-59 years
219,008
60-69 years
119,493
70-79 years
53,802
80+ years
21,814
Place of Birth (C 2020)
Same state
1,090,014
Mexico (other state)
950,489
USA
90,999
Other country
13,578
Religion (C 2020)
Roman Catholic
1,336,539
Protestant
352,159
Other religion
3,951
No religion
450,634
Literacy (A15+) (C 2020)
yes
1,621,747
no
25,011
---