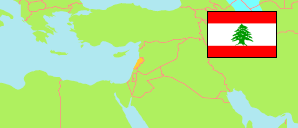 Ḥāṣbayyā
District in Lebanon
Contents:

Population

The population development of Ḥāṣbayyā as well as related information and services (Wikipedia, Google, images).
Name
Status
Native
Population
Estimate
1996-12-31
Population
Estimate
2007-12-31
Population
Estimate
2011-12-31
Population
Estimate
2017-12-31

Ḥāṣbayyā

[

Hasbaya

]
District

قضاء حاصبيّا

19,460
23,408
26,944
37,784
Lubnān [

Lebanon

]
Republic

لبنان

3,111,832
3,759,134
4,036,450
5,416,225
Source: Ministry of Public Health, Lebanese Republic (web), UNHCR (web), Lebanese Palestinean Dialogue Committee (web).
Explanation: The tabulated population figures include registered Syrian refugees (995,512 in January 2018). The number of non-registered Syrian refugees is estimed to be about 400,000. Palestine refugees residing in camps and gatherings (174,422 according to the mid-2017 census) are not included in the regular population figures but reported by the detail pages. Furthermore, there are about 40,000 Palestinian refugees from Syria in Lebanon. The actual total end-of-2017 population of Lebanon was – using these numbers – about 6.05 million.
---
Further information about the population structure:
Population Groups (E 2017)
Residential population
32,076
Registered Syrian refugees
5,708
---