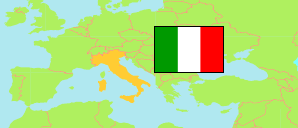 Santa Croce - San Valentino - Casavina - Rufani
in Roma (Latium)
Contents:

Locality

The population development of Santa Croce - San Valentino - Casavina - Rufani as well as related information and services (weather, Wikipedia, Google, images).
Source: Istituto Nazionale di Statistica Italia (web).
Explanation: Localities as defined by the 2011 census. They are limited by unbuilt areas and boundaries of communes.
---
Further information about the population structure:
Gender (C 2011)
Males
111
Females
109
Age Groups (C 2011)
0-14 years
41
15-64 years
158
65+ years
21
Age Distribution (C 2011)
0-9 years
30
10-19 years
16
20-29 years
26
30-39 years
37
40-49 years
31
50-59 years
43
60-69 years
20
70+ years
17
Citizenship (C 2011)
Italian
218
Foreigners
2
---