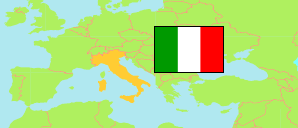 Monza e della Brianza
Province in Italy
Contents:

Population

The population development of Monza e della Brianza as well as related information and services (Wikipedia, Google, images).
Name
Status
Population
Census
1991-10-20
Population
Census
2001-10-21
Population
Census
2011-10-09
Population
Estimate
2021-01-01

Monza e della Brianza

Province
729,347
766,631
840,129
867,421
Italia [

Italy

]
Republic
56,778,031
56,995,744
59,433,744
59,257,566
Source: Istituto Nazionale di Statistica Italia (web).
Explanation: The latest population figures are result of a sampling survey combined with an evaluation of registers.
---
Further information about the population structure:
Gender (E 2021)
Males
424,820
Females
442,601
Age Groups (E 2021)
0-17 years
142,607
18-64 years
527,212
65+ years
197,602
Age Distribution (E 2021)
0-9 years
73,496
10-19 years
85,593
20-29 years
84,070
30-39 years
96,427
40-49 years
132,388
50-59 years
142,045
60-69 years
104,849
70-79 years
85,086
80-89 years
53,325
90+ years
10,142
Nationality (E 2020)
Italy
792,898
European Union
19,814
Europe (rest)
14,170
Africa
17,807
Asia
14,378
Other nationality
11,126
---