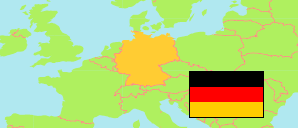 Bielefeld - Gütersloh
(Germany)
Contents:

Urban Area

The population development of Bielefeld - Gütersloh as well as related information and services (weather, Wikipedia, Google, images).
Source: Boundaries and population of urban areas are computed by »City Population« using population figures in a 100m grid provided by the Statistisches Bundesamt Deutschland (web) and using geospatial data of the Bundesamt für Kartographie und Geodäsie (web).
Explanation: The urban areas are delimited by unsettled and not built-up areas. Because of the computation method, the above population figures are not exact and therefore rounded. Area figures are derived from geospatial data.
---