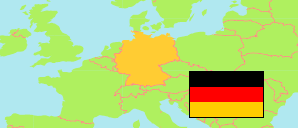 Neustadt an der Weinstraße
in Neustadt an der Weinstraße (Rhineland-Palatinate)
Contents:

County-level City

The population development of Neustadt an der Weinstraße as well as related information and services (weather, Wikipedia, Google, images).
Source: Statistisches Bundesamt Deutschland (web).
Explanation: Population estimates after 2011 are based on the results of the 2011 census. Communes and counties within the boundaries of 31 December 2021.
---
Further information about the population structure:
Gender (E 2021)
Males
26,135
Females
27,356
Age Groups (E 2021)
0-17 years
8,688
18-64 years
31,461
65+ years
13,342
Age Distribution (E 2021)
0-14 years
7,265
15-29 years
7,778
30-44 years
9,415
45-59 years
11,297
75+ years
6,910
Citizenship (C 2011)
Germany
49,012
Austria
85
Croatia
28
Greece
83
Italy
184
Poland
277
Russia
112
Turkey
788
Europe (other)
921
Africa
101
America
174
Asia
369
Other
30
Country of Birth (C 2011)
Germany
44,206
EU 27
2,246
Europe (other)
1,910
Other country
2,481
Unknown
1,321
Religion (C 2011)
Roman Catholic
17,450
Protestant
20,497
Other/No/Unknown
14,217
---