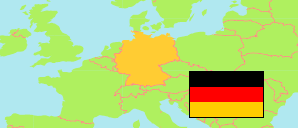 Steinau an der Straße
in Main-Kinzig-Kreis (Hesse)
Contents:

City

The population development of Steinau an der Straße as well as related information and services (weather, Wikipedia, Google, images).
Source: Statistisches Bundesamt Deutschland (web).
Explanation: Population estimates after 2011 are based on the results of the 2011 census. Communes and counties within the boundaries of 31 December 2021.
---
Further information about the population structure:
Gender (E 2021)
Males
5,064
Females
5,172
Age Groups (E 2021)
0-17 years
1,598
18-64 years
6,184
65+ years
2,454
Age Distribution (E 2021)
0-14 years
1,321
15-29 years
1,509
30-44 years
1,683
45-59 years
2,429
75+ years
1,226
Citizenship (C 2011)
Germany
10,097
Austria
6
Croatia
6
Greece
9
Italy
37
Poland
55
Russia
38
Turkey
103
Europe (other)
128
Africa
3
America
22
Asia
57
Country of Birth (C 2011)
Germany
9,309
EU 27
380
Europe (other)
313
Other country
306
Unknown
256
Religion (C 2011)
Roman Catholic
3,841
Protestant
4,759
Other/No/Unknown
1,964
---