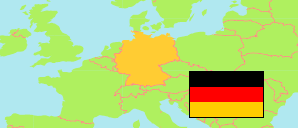 Städteregion Aachen
County in Nordrhein-Westfalen (Germany)
Contents:

COVID-19 Cases (Coronavirus Disease)

COVID-19 Cases (Coronavirus Disease) in Städteregion Aachen as well as related information and services (Wikipedia, Google, images).
Measure for growth: Number of new cases per day and 100,000 inhabitants.
Name
Status
Cases
count
2020-03-13
Cases
count
2020-03-27
Cases
count
2020-04-10
Cases
count
2020-04-24
Cases
count
2020-05-08
Cases
count
2020-05-22
Cases
count
2020-06-05
Cases
count
2020-06-19
Cases
incomplete
2020-07-13

Städteregion Aachen

County
76
725
1,472
1,811
1,909
1,960
1,975
1,990
2,013
Deutschland [

Germany

]
Federal Republic
3,741
50,134
119,122
153,058
168,597
177,844
183,583
189,224
198,963
Source: Robert-Koch-Institut (RKI), Berlin.
Last Change: 2020-07-13 03:01 UTC
Explanation: The reference time for all columns is 0:00. All figures are computed by using the notifications of local health authorities known until the last given reference date at 0:00. The number of recovered persons are the result of calculations by RKI and not of enumerations. Thus, this figure and the resulting number of currently ill persons are rough estimates. In the last column, the number of cases is slightly underestimated because of delayed notifications.
---
Further information about the Cases:
New Cases per Day
03-13 ~ 03-27
46.36
03-27 ~ 04-10
53.36
04-10 ~ 04-24
24.21
04-24 ~ 05-08
7.00
05-08 ~ 05-22
3.64
05-22 ~ 06-05
1.07
06-05 ~ 06-19
1.07
06-19 ~ 07-13
0.96
Cases: Status (20-07-13)
Acutely ill
9
Deceased
100
Recovered
1,904
Cases: Gender (20-07-13)
Males
936
Females
1,074
Cases: Age (20-07-13)
0-14 years
60
15-34 years
513
35-59 years
790
60-79 years
389
80+ years
261
Deaths: Gender (20-07-13)
Males
59
Females
41
Deaths: Age (20-07-13)
35-59 years
8
60-79 years
30
80+ years
62
---
---
Germany: COVID-19 (coronavirus) incidence rates by counties
Germany: increase of COVID-19 cases (coronavirus) by counties