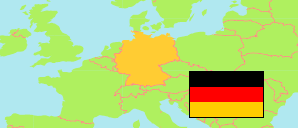 Kirchheim i. Schw.
in Unterallgäu (Bavaria)
Contents:

Market

The population development of Kirchheim i. Schw. as well as related information and services (weather, Wikipedia, Google, images).
Source: Statistisches Bundesamt Deutschland (web).
Explanation: Population estimates after 2011 are based on the results of the 2011 census. Communes and counties within the boundaries of 31 December 2019.
---
Further information about the population structure:
Gender (E 2018)
Males
1,369
Females
1,278
Age Groups (E 2018)
0-17 years
473
18-64 years
1,651
65+ years
523
Age Distribution (E 2018)
0-14 years
387
15-29 years
485
30-44 years
477
45-59 years
606
60-74 years
412
75+ years
280
Nationality (C 2011)
Germany
2,492
Austria
3
Croatia
9
Italy
6
Poland
4
Turkey
10
Europe (other)
15
Africa
3
Asia
7
Country of Birth (C 2011)
Germany
2,367
EU 27
72
Europe (other)
47
Other country
32
Unknown
31
Religion (C 2011)
Roman Catholic
2,093
Protestant
178
Other/No/Unknown
278
---