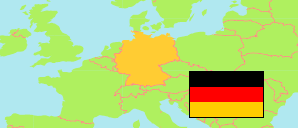 Michelbach an der Bilz
in Schwäbisch Hall (Baden-Württemberg)
Contents:

Commune

The population development of Michelbach an der Bilz as well as related information and services (weather, Wikipedia, Google, images).
Source: Statistisches Bundesamt Deutschland (web).
Explanation: Population estimates after 2011 are based on the results of the 2011 census. Communes and counties within the boundaries of 31 December 2021.
---
Further information about the population structure:
Gender (E 2020)
Males
1,743
Females
1,776
Age Groups (E 2020)
0-17 years
597
18-64 years
2,148
65+ years
774
Age Distribution (E 2020)
0-14 years
491
15-29 years
583
30-44 years
634
45-59 years
768
60-74 years
633
75+ years
410
Nationality (C 2011)
Germany
3,324
Austria
12
Italy
29
Russia
6
Europe (other)
18
America
3
Asia
19
Country of Birth (C 2011)
Germany
2,969
EU 27
124
Europe (other)
65
Other country
110
Unknown
143
Religion (C 2011)
Roman Catholic
795
Protestant
1,879
Other/No/Unknown
737
---