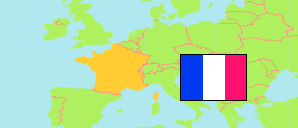 Pas-de-Calais
Department in Hauts-de-France (France)
Contents:

Population

The population development of Pas-de-Calais as well as related information and services (Wikipedia, Google, images).
Name
Status
Population
Estimate
2007-01-01
Population
Estimate
2015-01-01
Population
Estimate
2017-01-01

Pas-de-Calais

Department
1,402,295
1,412,413
1,433,203
France
Republic
52,591,584
54,334,871
56,615,155
Source: Institut National de la Statistique et des Études Économiques, France (web).
Explanation: Communes and areas in the boundaries of 1 January 2019. Area figures are computed by using geospatial data. France computes the population from census results of different years.
---
Further information about the population structure:
Gender (E 2020)
Males
704,417
Females
748,361
Age Groups (E 2020)
0-14 years
273,504
15-64 years
896,853
65+ years
282,421
Age Distribution (E 2020)
0-9 years
175,077
10-19 years
192,152
20-29 years
155,051
30-39 years
181,223
40-49 years
185,396
50-59 years
188,804
60-69 years
181,141
70-79 years
113,951
80-89 years
64,319
90+ years
15,664
Nationality (E 2017)
France
1,440,767
Other
27,251
Immigration (E 2017)
No immigrant
1,430,049
Immigrant
37,969
---