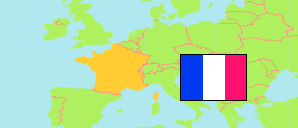 Seine-Saint-Denis
Department in Île-de-France (France)
Contents:

Population

The population development of Seine-Saint-Denis as well as related information and services (Wikipedia, Google, images).
Name
Status
Population
Estimate
2007-01-01
Population
Estimate
2015-01-01
Population
Estimate
2017-01-01

Seine-Saint-Denis

Department
1,322,127
1,324,301
1,381,197
France
Republic
52,591,584
54,334,871
56,615,155
Source: Institut National de la Statistique et des Études Économiques, France (web).
Explanation: Communes and areas in the boundaries of 1 January 2019. Area figures are computed by using geospatial data. France computes the population from census results of different years.
---
Further information about the population structure:
Gender (E 2020)
Males
822,771
Females
847,378
Age Groups (E 2020)
0-14 years
375,512
15-64 years
1,094,416
65+ years
200,221
Age Distribution (E 2020)
0-9 years
258,509
10-19 years
226,523
20-29 years
222,290
30-39 years
256,009
40-49 years
231,000
50-59 years
197,192
60-69 years
143,660
70-79 years
83,141
80-89 years
41,509
90+ years
10,316
Nationality (E 2017)
France
1,230,547
Other
392,564
Immigration (E 2017)
No immigrant
1,127,705
Immigrant
495,406
---