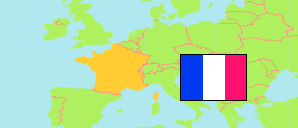 Le Cendre
Commune in Clermont-Ferrand Agglomeration
Contents:

Communes

The population of the communes belonging to the agglomeration (l'unité urbaine) of Clermont-Ferrand.
Name
Status
Population
Estimate
2007-01-01
Population
Estimate
2015-01-01
Population
Estimate
2019-01-01

Le Cendre

Commune
4,676
5,233
5,510

Route de Cournon

Statistical Area
2,470
2,149
2,260
→

Route des Martres

Statistical Area
2,206
3,084
3,250
→
Clermont-Ferrand
Agglomeration
261,240
265,892
274,141
Source: Institut National de la Statistique et des Études Économiques, France (web).
Explanation: Communes and areas in the boundaries of 1 January 2022. Area figures are computed by using geospatial data. France computes the population from census results of different years.
---
Further information about the population structure:
---