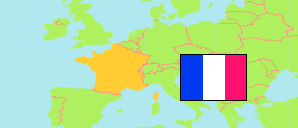 Lyon
Agglomeration in France
Contents:

Population

The population development of Lyon as well as related information and services (Wikipedia, Google, images).
Name
Status
Population
Census
1975-02-20
Population
Census
1982-03-04
Population
Census
1990-03-05
Population
Census
1999-03-08
Population
Estimate
2007-01-01
Population
Estimate
2015-01-01
Population
Estimate
2019-01-01

Lyon

Agglomeration
1,297,236
1,310,333
1,364,208
1,424,253
1,504,463
1,633,133
1,685,494
Source: Institut National de la Statistique et des Études Économiques, France (web).
Explanation: Agglomerations are composed of communes in the boundaries of 1 January 2021. Since 2006, France estimates the population by using census results of different years.
---
Further information about the population structure:
Gender (E 2017)
Males
791,977
Females
861,974
Age Groups (E 2017)
0-17 years
369,310
18-64 years
1,012,600
65+ years
272,039
Age Distribution (E 2017)
0-9 years
212,772
10-19 years
210,046
20-29 years
255,099
30-39 years
226,360
40-49 years
207,831
50-59 years
189,464
60-69 years
157,150
70-79 years
108,229
80-89 years
69,600
90+ years
17,399
Citizenship (E 2017)
France
1,497,369
Other
156,582
Immigration (E 2017)
No immigrant
1,426,949
Immigrant
227,002
---