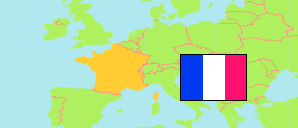 Lille
Agglomeration in France
Contents:

Population

The population development of Lille as well as related information and services (Wikipedia, Google, images).
Name
Status
Population
Census
1975-02-20
Population
Census
1982-03-04
Population
Census
1990-03-05
Population
Census
1999-03-08
Population
Estimate
2007-01-01
Population
Estimate
2015-01-01
Population
Estimate
2017-01-01

Lille

Agglomeration
960,264
962,531
977,917
999,797
1,014,239
1,039,397
1,043,623
Source: Institut National de la Statistique et des Études Économiques, France (web).
Explanation: Agglomerations are composed of communes in the boundaries of 1 January 2019. Since 2006, France estimates the population by using census results of different years.
---
Further information about the population structure:
Gender (E 2017)
Males
500,354
Females
543,269
Age Groups (E 2017)
0-17 years
246,516
18-64 years
647,063
65+ years
150,044
Age Distribution (E 2017)
0-9 years
140,328
10-19 years
143,532
20-29 years
166,513
30-39 years
142,372
40-49 years
130,100
50-59 years
119,409
60-69 years
98,588
70-79 years
57,111
80-89 years
36,640
90+ years
9,029
Nationality (E 2017)
France
959,812
Other
83,811
Immigration (E 2017)
No immigrant
935,090
Immigrant
108,533
---