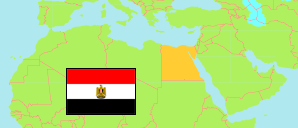 Rūd al-Faraj
Kism (fully urban) in Greater Cairo
Contents:

Population

The population development of Rūd al-Faraj as well as related information and services (Wikipedia, Google, images).
Name
Status
Native
Governorate
Population
Census
1996-11-19
Population
Census
2006-11-11
Population
Estimate
2017-07-01
Population
Estimate
2021-07-01

Rūd al-Faraj

[

Rod El Farag

]
Kism (fully urban)

قسم روض الفرج

Al-Qāhirah
178,145
144,510
146,102
153,382
Al-Qāhirah al-Kubrā [

Greater Cairo

]
Metropolitan Area

القاهرة الكبرى

12,600,000
15,628,325
20,236,476
21,381,869
Source: Central Agency for Public Mobilization and Statistics (CAPMAS), Egypt (web).
Explanation: The tabulated estimates are based on the results of the 2018 census. Some figures for 2006 are computed using preliminary census results. Area figures of districts are derived from geospatial data.
---
Further information about the population structure:
Gender (E 2021)
Males
76,269
Females
77,113
Urbanization (E 2021)
Urban
153,382
---