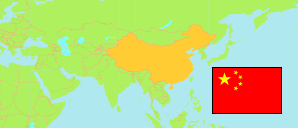 Xúndiàn Huízú Yízú Zìzhìxiàn
Autonomous County in Yúnnán
Contents:

Population

The population development of Xúndiàn Huízú Yízú Zìzhìxiàn as well as related information and services (Wikipedia, Google, images).
Source: China National Bureau of Statistics (web).
Explanation: The population changes are partly result of boundary changes. Status and division as of 2018, as far as sufficient information is available.
---
Further information about the population structure:
Gender (C 2010)
Males
233,492
Females
223,576
Urbanization (C 2010)
Rural
358,362
Urban
98,706
Age Groups (C 2010)
0-14 years
101,660
15-64 years
314,407
65+ years
41,001
Age Distribution (C 2010)
0-9 years
59,203
10-19 years
84,389
20-29 years
54,057
30-39 years
81,139
40-49 years
78,068
50-59 years
42,886
60-69 years
29,993
70-79 years
19,793
80+ years
7,540
Generations in Household (C 2010)
1
34,551
2
61,985
3
29,822
4+
1,701
---