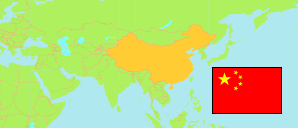 Áoxī Zhèn
in Yúqìng Xiàn (Zūnyì Shì (Guìzhōu))
Contents:

Town

The population of Áoxī Zhèn as well as related information and services (weather, Wikipedia, Google, images).
Source: China National Bureau of Statistics (web).
Explanation: Towns and urban subdistricts may have some rural population. Districts and counties as of 2020 (as far as sufficient information is available). Area figures are computed by using geospatial data.
---
Further information about the population structure:
Gender (C 2010)
Males
9,811
Females
9,740
Age Groups (C 2010)
0-14 years
4,472
15-64 years
12,978
65+ years
2,101
---