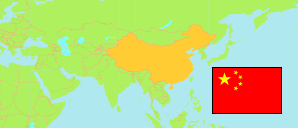 Zhōngshā Qúndăo
Islands in Sānshā Shì / 三亚市
Islands
The population of Zhōngshā Qúndăo.
Name
Native
Status
Population
Census
2010-11-01

Zhōngshā Qúndăo

[

Zhongsha Islands (Macclesfield Bank) and other reefs, disputed

]

中沙群岛的岛礁及其海域

Islands
...
→

Sānshā Shì

三沙市

Prefecture-level City
444
Contents:

Townships

The population of the townships in Zhōngshā Qúndăo.
Source: China National Bureau of Statistics (web).
Explanation: Towns and urban subdistricts may have some rural population. Districts and counties as of 2018 (as far as sufficient information is available).