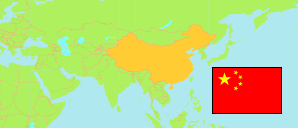 Ānhuī Shĕng Báihú Fámén Chăng Yŏuxiàn Gōngsī
in Lújiāng Xiàn (Héféi Shì (Ānhuī))
Contents:

Township-like Area

The population of Ānhuī Shĕng Báihú Fámén Chăng Yŏuxiàn Gōngsī as well as related information and services (weather, Wikipedia, Google, images).
Source: China National Bureau of Statistics (web).
Explanation: Towns and urban subdistricts may have some rural population. Districts and counties as of 2020 (as far as sufficient information is available).
---
Further information about the population structure:
Gender (C 2010)
Males
2,832
Females
664
Age Groups (C 2010)
0-14 years
107
15-64 years
3,113
65+ years
276
---