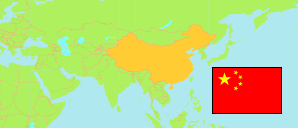 Wŭqīng Qū
District in Tiānjīn
Contents:

Population

The population development of Wŭqīng Qū as well as related information and services (Wikipedia, Google, images).
Name
Status
Native
Population
Census
2000-11-01
Population
Census
2010-11-01
Population
Estimate
2018-12-31

Wŭqīng Qū

District

武清区

814,752
951,078
1,191,500
Tiānjīn
Municipal Province

天津市

9,848,731
12,938,693
15,596,000
Source: China National Bureau of Statistics (web), Tianjin Municipal Bureau of Statistics (web).
Explanation: The population changes are partly result of boundary changes. Status and division as of 2018, as far as sufficient information is available.
---
Further information about the population structure:
Gender (C 2010)
Males
504,396
Females
446,682
Urbanization (C 2010)
Rural
598,419
Urban
352,659
Age Groups (C 2010)
0-14 years
130,398
15-64 years
743,179
65+ years
77,501
Age Distribution (C 2010)
0-9 years
85,182
10-19 years
102,303
20-29 years
167,506
30-39 years
164,823
40-49 years
171,219
50-59 years
134,143
60-69 years
78,280
70-79 years
34,760
80+ years
12,862
Generations in Household (C 2010)
1
65,990
2
120,725
3
63,081
4+
3,051
---