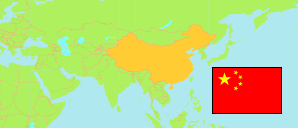 Nánbù Xiàn
County in Sìchuān
Contents:

Population

The population development of Nánbù Xiàn as well as related information and services (Wikipedia, Google, images).
Name
Native
Status
Population
Census
2000-11-01
Population
Census
2010-11-01
Population
Estimate
2017-12-31

Nánbù Xiàn

南部县

County
1,186,897
929,923
939,500
Sìchuān

四川省

Province
82,348,296
80,417,528
83,020,000
Source: China National Bureau of Statistics (web), Sichuan Provincial Bureau of Statistics (web).
Explanation: The population changes are partly result of boundary changes. Status and division as of 2018, as far as sufficient information is available.
---
Further information about the population structure:
Gender (C 2010)
Males
459,723
Females
470,200
Urbanization (C 2010)
Rural
680,364
Urban
249,559
Age Groups (C 2010)
0-14 years
183,003
15-64 years
621,637
65+ years
125,283
Age Distribution (C 2010)
0-9 years
110,518
10-19 years
152,139
20-29 years
92,871
30-39 years
129,056
40-49 years
135,157
50-59 years
121,090
60-69 years
114,680
70-79 years
55,164
80+ years
19,248
Generations in Household (C 2010)
1
123,053
2
138,010
3
57,272
4+
2,519
---