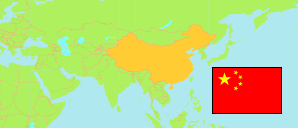 Zhōngjiāng Xiàn
County in Sìchuān
Contents:

Population

The population development of Zhōngjiāng Xiàn as well as related information and services (Wikipedia, Google, images).
Name
Status
Native
Population
Census
2000-11-01
Population
Census
2010-11-01
Population
Census
2020-11-01

Zhōngjiāng Xiàn

County

中江县

1,395,789
1,186,762
946,019
Sìchuān
Province

四川省

82,348,296
80,417,528
83,674,866
Source: China National Bureau of Statistics (web), Bureaus of Statistics in Sichuan (web).
Explanation: Status and division as of 2020, as far as sufficient information is available. Area figures are computed by using geospatial data.
---
Further information about the population structure:
Gender (C 2020)
Males
485,937
Females
460,082
Urbanization (C 2020)
Rural
553,471
Urban
392,548
Age Groups (C 2020)
0-14 years
153,050
15-64 years
582,898
65+ years
210,071
Age Distribution (C 2020)
0-9 years
87,538
10-19 years
105,268
20-29 years
81,627
30-39 years
95,145
40-49 years
147,414
50-59 years
164,517
60-69 years
136,739
70-79 years
88,851
80+ years
38,920
---