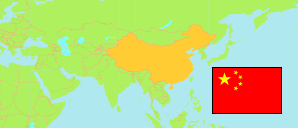 Píngdù Shì
County-level City in Shāndōng
Contents:

Population

The population development of Píngdù Shì as well as related information and services (Wikipedia, Google, images).
Name
Status
Native
Population
Census
2000-11-01
Population
Census
2010-11-01
Population
Census
2020-11-01

Píngdù Shì

County-level City

平度市

1,321,975
1,357,424
1,191,348
Shāndōng
Province

山东省

89,971,789
95,792,719
101,527,453
Source: China National Bureau of Statistics (web), Bureaus of Statistics in Shandong Province (web).
Explanation: Status and division as of 2020, as far as sufficient information is available. Area figures are computed by using geospatial data.
---
Further information about the population structure:
Gender (C 2020)
Males
600,887
Females
590,461
Urbanization (C 2020)
Rural
671,391
Urban
519,957
Age Groups (C 2020)
0-14 years
177,619
15-64 years
789,143
65+ years
224,586
Age Distribution (C 2020)
0-9 years
119,503
10-19 years
107,606
20-29 years
81,190
30-39 years
147,178
40-49 years
187,387
50-59 years
244,316
60-69 years
165,399
70-79 years
90,959
80+ years
47,810
---