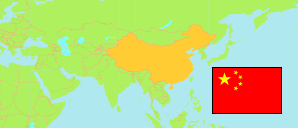 Cháng'ān Qū
District in Shaanxi
Contents:

Population

The population development of Cháng'ān Qū as well as related information and services (Wikipedia, Google, images).
Name
Status
Native
Population
Census
2000-11-01
Population
Census
2010-11-01
Population
Census
2020-11-01

Cháng'ān Qū

District

长安区

746,910
939,545
1,751,296
Shănxī [

Shaanxi

]
Province

陕西省

35,365,072
37,327,379
39,528,999
Source: China National Bureau of Statistics (web), Shaanxi Provincial Bureau of Statistics (web).
Explanation: Status and division as of 2020, as far as sufficient information is available. Area figures are computed by using geospatial data.
---
Further information about the population structure:
Gender (C 2020)
Males
894,825
Females
856,471
Urbanization (C 2020)
Rural
667,975
Urban
1,083,321
Age Groups (C 2020)
0-14 years
267,630
15-64 years
1,317,275
65+ years
166,391
Age Distribution (C 2020)
0-9 years
198,368
10-19 years
195,474
20-29 years
362,467
30-39 years
335,758
40-49 years
215,355
50-59 years
199,030
60-69 years
151,281
70-79 years
69,924
80+ years
23,639
---