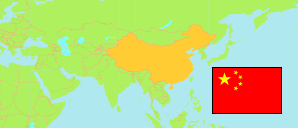 Yàntă Qū
District in Shaanxi
Contents:

Population

The population development of Yàntă Qū as well as related information and services (Wikipedia, Google, images).
Name
Status
Native
Population
Census
2000-11-01
Population
Census
2010-11-01
Population
Estimate
2019-12-31

Yàntă Qū

District

雁塔区

795,058
1,178,529
1,385,300
Shănxī [

Shaanxi

]
Province

陕西省

35,365,072
37,327,379
38,762,000
Source: China National Bureau of Statistics (web), Shaanxi Provincial Bureau of Statistics (web).
Explanation: The population changes are partly result of boundary changes. Status and division as of 2018, as far as sufficient information is available. Taking into account boundary changes caused by the creation of Xixian New District (Xīxián Xīn Qū, 西咸新区) with an end-of-2019 population of 1,039,000, the end-of-2019 population of Xī'ān Shì increases to 10.2035 million. The 2019 population of Xiányáng Shì decreases correspondingly to 4.356 million. Wèiyāng Qū (pop. 827,300), Cháng'ān Qū (pop. 1,064,200), Hùyì Qū (pop. 564,600), Qíndū Qū (pop. 349,000), Wèichéng Qū (pop. 213,700), Jīngyáng Xiàn (pop. 315,800) and Xīngpíng Shì (pop. 506,300) are also affected.
---
Further information about the population structure:
Gender (C 2010)
Males
610,595
Females
567,934
Urbanization (C 2010)
Urban
1,178,529
Age Groups (C 2010)
0-14 years
120,177
15-64 years
993,033
65+ years
65,319
Age Distribution (C 2010)
0-9 years
79,941
10-19 years
141,939
20-29 years
389,929
30-39 years
209,473
40-49 years
162,639
50-59 years
98,260
60-69 years
54,629
70-79 years
33,533
80+ years
8,186
Generations in Household (C 2010)
1
214,373
2
145,575
3
32,832
4+
371
---