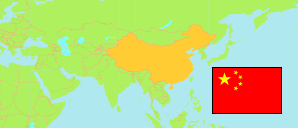 Mínhé Huízú Tŭzú Zìzhìxiàn
Autonomous County in Qīnghăi
Contents:

Population

The population development of Mínhé Huízú Tŭzú Zìzhìxiàn as well as related information and services (Wikipedia, Google, images).
Source: China National Bureau of Statistics (web).
Explanation: The population changes are partly result of boundary changes. Status and division as of 2018, as far as sufficient information is available.
---
Further information about the population structure:
Gender (C 2010)
Males
181,138
Females
168,980
Urbanization (C 2010)
Rural
269,518
Urban
80,600
Age Groups (C 2010)
0-14 years
78,665
15-64 years
248,603
65+ years
22,850
Age Distribution (C 2010)
0-9 years
47,866
10-19 years
68,123
20-29 years
52,869
30-39 years
59,200
40-49 years
56,693
50-59 years
30,485
60-69 years
21,334
70-79 years
11,226
80+ years
2,322
Generations in Household (C 2010)
1
11,005
2
43,435
3
25,450
4+
793
---