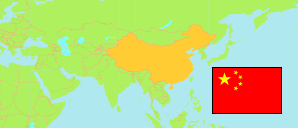 Níngxiāng Shì
County-level City in Húnán
Contents:

Population

The population development of Níngxiāng Shì as well as related information and services (Wikipedia, Google, images).
Name
Native
Status
Population
Census
2000-11-01
Population
Census
2010-11-01
Population
Estimate
2018-12-31

Níngxiāng Shì

[

← Níngxiāng Xiàn

]

宁乡市

County-level City
1,247,218
1,166,138
1,305,000
Húnán

湖南省

Province
63,274,173
65,700,762
68,988,000
Source: China National Bureau of Statistics (web), Hunan Provincial Bureau of Statistics (web).
Explanation: The population changes are partly result of boundary changes. Status and division as of 2018, as far as sufficient information is available.
---
Further information about the population structure:
Gender (C 2010)
Males
587,816
Females
578,322
Urbanization (C 2010)
Rural
668,083
Urban
498,055
Age Groups (C 2010)
0-14 years
200,620
15-64 years
822,334
65+ years
143,184
Age Distribution (C 2010)
0-9 years
133,144
10-19 years
117,236
20-29 years
149,558
30-39 years
169,587
40-49 years
245,760
50-59 years
138,530
60-69 years
118,793
70-79 years
68,278
80+ years
25,252
Generations in Household (C 2010)
1
128,878
2
164,183
3
79,405
4+
3,533
---