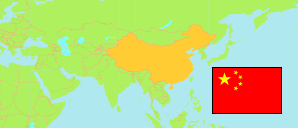 Lùyì Xiàn
County in Hénán
Contents:

Population

The population development of Lùyì Xiàn as well as related information and services (Wikipedia, Google, images).
Name
Status
Native
Population
Census
2000-11-01
Population
Census
2010-11-01
Population
Estimate
2018-12-31

Lùyì Xiàn

County

鹿邑县

1,068,984
910,251
878,200
Hénán
Province

河南省

91,236,854
94,029,939
96,050,000
Source: China National Bureau of Statistics (web), Henan Provincial Bureau of Statistics (web).
Explanation: The population changes are partly result of boundary changes. Status and division as of 2018, as far as sufficient information is available.
---
Further information about the population structure:
Gender (C 2010)
Males
432,053
Females
478,198
Urbanization (C 2010)
Rural
648,364
Urban
261,887
Age Groups (C 2010)
0-14 years
238,288
15-64 years
587,132
65+ years
84,831
Age Distribution (C 2010)
0-9 years
141,999
10-19 years
187,708
20-29 years
129,369
30-39 years
107,177
40-49 years
126,547
50-59 years
92,121
60-69 years
73,173
70-79 years
36,495
80+ years
15,662
Generations in Household (C 2010)
1
79,928
2
152,951
3
41,846
4+
1,761
---