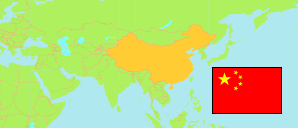 Yŏngchéng Shì
County-level City in Hénán
Contents:

Population

The population development of Yŏngchéng Shì as well as related information and services (Wikipedia, Google, images).
Name
Status
Native
Population
Census
2000-11-01
Population
Census
2010-11-01
Population
Estimate
2018-12-31

Yŏngchéng Shì

County-level City

永城市

1,264,607
1,240,382
1,238,800
Hénán
Province

河南省

91,236,854
94,029,939
96,050,000
Source: China National Bureau of Statistics (web), Henan Provincial Bureau of Statistics (web).
Explanation: The population changes are partly result of boundary changes. Status and division as of 2018, as far as sufficient information is available.
---
Further information about the population structure:
Gender (C 2010)
Males
623,163
Females
617,219
Urbanization (C 2010)
Rural
826,070
Urban
414,312
Age Groups (C 2010)
0-14 years
278,048
15-64 years
835,566
65+ years
126,768
Age Distribution (C 2010)
0-9 years
196,293
10-19 years
189,015
20-29 years
201,406
30-39 years
169,376
40-49 years
195,957
50-59 years
109,139
60-69 years
94,643
70-79 years
57,712
80+ years
26,841
Generations in Household (C 2010)
1
124,100
2
199,510
3
52,596
4+
2,528
---